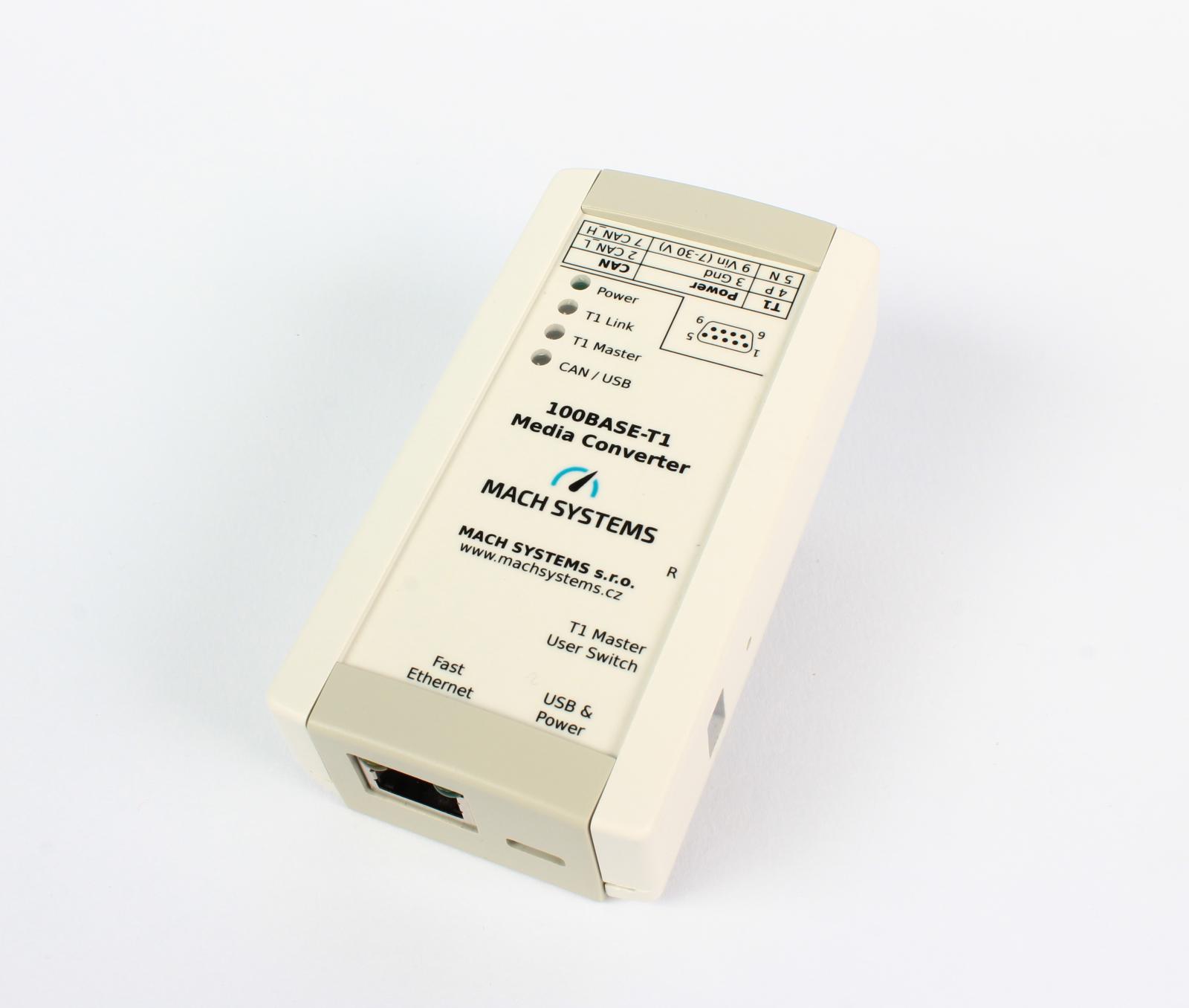 A bi-directional physical layer converter between 100BASE-T1 (OPEN Alliance BroadR-Reach – OABR) and 100BASE-TX (Fast Ethernet), enabling the user to easily connect Automotive Ethernet cameras or ECUs with OABR media link to a standard computer network.
The interface establishes a point-to-point link between an unshielded twisted-pair Automotive Ethernet (IEEE 100BASE-T1) port and a Fast Ethernet port. The converter features one DSUB9 (BroadR-Reach, CAN bus), one Fast Ethernet port with RJ-45 connector, and a Micro-USB connector. The BroadR-Reach channel is configurable as either Master or Slave by a switch button or programmatically, and the device can be powered either via DSUB connector or via USB. Further, the device can be simultaneously used as a USB-CAN interface.
100BASE-T1 Media Converter Data Sheet
Features
100BASE-T1 (IEEE 802.3bw) to 100BASE-TX media conversion
Master/Slave configuration for BroadR-Reach
Can be used as a USB-CAN interface
DSUB9 connector for T1, RJ-45 connector for Ethernet
USB-powered or externally powered
6 status LEDs
2 DIP switches
Automatic polarity detection for OABR Slave
Media test for T1 cable – can detect a shortage, cut-off and impedance mismatch
100BASE-T1 Test mode generation
Table top or DIN-rail mount
It is possible to access SMI registers of both transreceivers (PHYs) via a CAN bus or a USB's virtual serial port. This enables the user to evaluate signal strength, detect polarity of the T1 port, carry out a BroadR-Reach media test to diagnose cable errors, fine-tune the PHYs parameters, and generally to read and write the registers.
USB-CAN Interface
The device can be simultaneously used as a USB-CAN interface. With the help of an open communication protocol, it is possible to transmit and receive CAN frames over USB (VCP  – Virtual COM port).
Free PC application for Status Information
We offer a free-of-charge PC utility for reading status information out of the 100BASE-T1 Media Converter. Once you plug the Media Converter into computer's USB port, the PC utility will show you converter's port status, signal quality and T1 cable test result. This is useful for diagnostic and test purposes.
Ordering Information
| | |
| --- | --- |
| P/N | Product |
| 100BASET1-MC-ETH | 100BASE-T1 to 100BASE-TX (Fast Ethernet) Media Converter |
| DIN-CLIP | DIN rail mounting clip |
How To Order
Contact us for getting a price quotation.
Similar Products