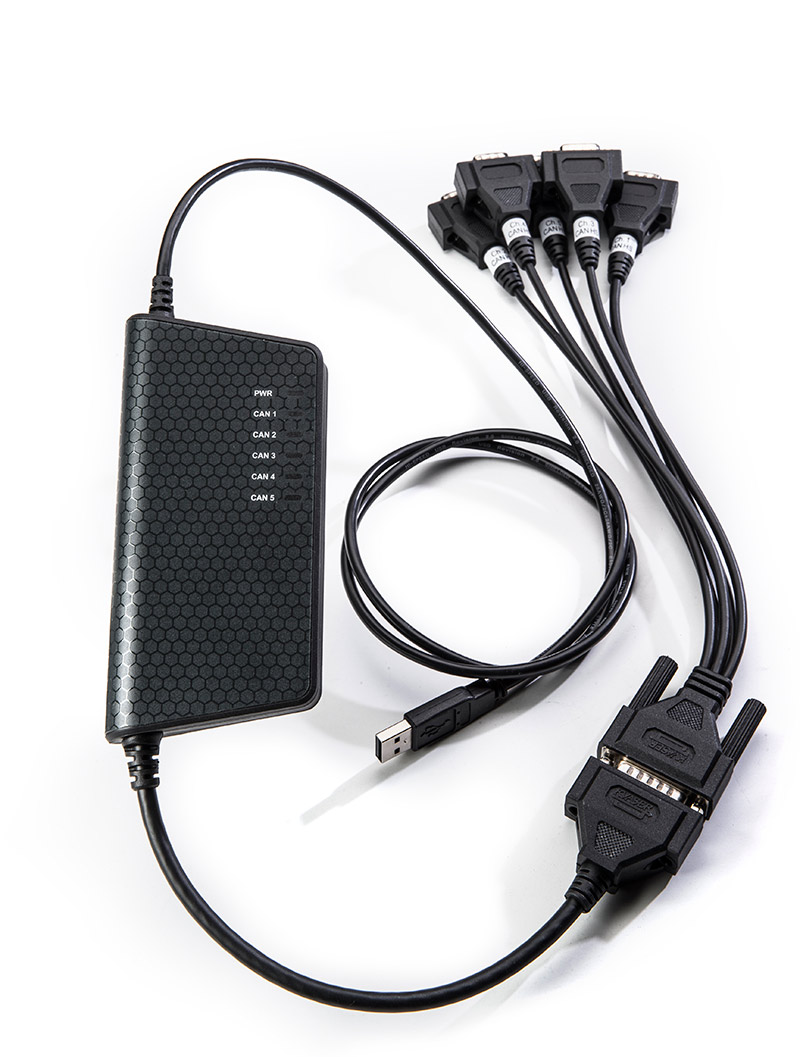 The Kvaser USBcan Pro 5xHS is a five-channel CAN-USB interface with user-scripting support. It has a 26 pin HD DSUB that connects to a splitter with five 9 pin DSUBs, and one USB connector that easily links to any USB port on a host computer. The interface supports both CAN 2.0B and CAN FD protocol.
This interface can run user-developed scripts, written in the Kvaser T programming language. T programs run directly on the Kvaser USBcan Pro 5xHS make it possible to react much quicker to CAN bus events – for example, to speed up file transfer protocols such as CCP/XCP or ISO15765 by off-loading timing sensitive code to a script in USBcan Pro 5xHS, or to simulate missing hardware. The feature could also be used for implementing timing sensitive protocols, such as when a message needs to be sent at precise 5 ms intervals.
Features
Supports both CAN 2.0B and CAN FD protocol
Quick and easy plug-and-play installation.
Supports both 11-bit (CAN 2.0A) and 29-bit (CAN 2.0B active) identifiers.
Galvanic isolation.
High-speed CAN connection (compliant with ISO 11898-2), up to 1 Mbit/s.
Fully compatible with J1939, CANopen, NMEA 2000.
Kvaser MagiSync provides automatic time synchronization between several PC-to-bus interfaces connected to the same PC.
Programming functionality to support interface mode e.g. Optimize protocol handling, pre-filter CAN messages directly on the interface, or simulate missing hardware.
Simultaneous operation of multiple devices.
Five CAN channels integrated in a single 26-pin HD D-SUB connector.
Includes 5 channel breakout cable.
Technical Specification
5 independent CAN channels
each channel is galvanically isolated
CAN High Speed physical layer
CAN FD (CAN with Flexible Data-Rate) supported by firmware update
1 USB 2.0 port
Power is taken from the USB bus
J2534 Application Programming Interface available
RP1210A Application Programming Interface available